Ritz-Carlton Club Lionshead CO
From $295,000

Beds:

2-4

Baths:

3+

Sq Ft:

1950+
Description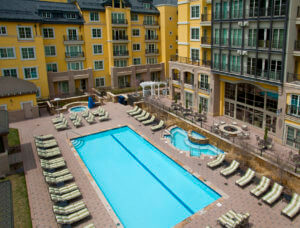 The Ritz-Carlton Club–Vail
The Ritz-Carlton Club–Vail is the newest, luxury property to grace the base of Vail Mountain. Conveniently nestled into the west end of Vail's Lionshead Village, The Ritz Carlton-Vail offers three distinct types of ownership:
The Ritz Carlton Home Club
The Ritz Carlton Destination Club
The Ritz Carlton Residences
How it Works
The Ritz-Carlton Home Club provides owners with a true second home experience in Vail. Owners will receive a 1/12 deeded interest to a luxury, two or three bedroom condominium at The Ritz Carlton-Vail. Each deeded, Home Club Membership provides the owners with three weeks of vacation usage in Vail each year plus additional "Space Available" vacations at all the Ritz-Carlton Club locations in Lionshead, Aspen-Highlands, Lake Tahoe, San Francisco and St. Thomas US Virgin Islands.
Membership entitles you to three guaranteed weeks of vacation usage at your Home Club in Vail. An added benefit offered only to Ritz Carlton Home Club members is year round storage of your skis, snowboards, boots, clothing and other personal items.
Exchange at The Ritz-Carlton Club
As a Ritz Carlton Home Club member you will enjoy having access to the other Ritz Carlton Club locations in Aspen, Lake Tahoe, San Francisco, Jupiter, FL and the US Virgin Islands. Further travel benefits are available as discounts at the Ritz-Carlton Hotels and by enrolling in the exclusive Lion and Crown Travel Company.
View the current listings at the Ritz-Carlton Club, Vail, and contact us for more information and to request the comparison chart of all the Vail Residence Clubs.
The Ritz Carlton Destination Club offers membership in an equity-based points program that provides owners with the greatest flexibility of vacation options while enjoying the legendary service of The Ritz Carlton.
As a member of the Ritz Carlton Destination Club you will receive an annual allotment of vacation club points that are used as currency to book vacations at any of the six Ritz Carlton Club locations and over 50 resorts in the Marriott Vacation Club Collection. You can also utilize your points based membership to book vacations at The Ritz Carlton hotels and The Marriott Hotels collection.
For more information pertaining to the points based Ritz Carlton Destination Club contact us.
For the ultimate way to enjoy both the legendary service of the Ritz Carlton and the year round activities of the Vail Valley choose a designer furnished, whole ownership residence. The exclusive homes at The Ritz Carlton– Vail range in size from two to four bedrooms. To learn more about the whole ownership opportunities at The Ritz Carlton Residences-Vail Contact Us here.
Location Map
Contact Us About This Listing